BECOME A PART OF OUR
Franchise Family
IN THEIR OWN WORDS
Here's what some of our franchise owners have to say about their Board & Brush Creative Studio experience:
IN THEIR OWN WORDS
Here's what some of our franchise owners have to say about their Board & Brush Creative Studio experiences: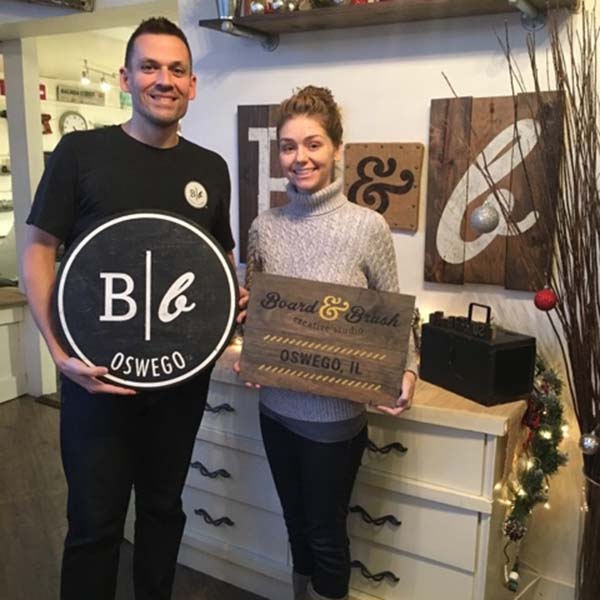 "We could not be happier with our decision to become small business owners! Board & Brush allows us to follow our passion, provide for our family, and raise our three little ones all at the same time. We loved our first studio and saw so much success that we've since opened two more locations. Despite the challenges of 2020, our B&b studios were able to weather the storm because of our alternate streams of revenue through @home kits and virtual workshops. Our community rallied behind us and we are so grateful for their support and love!"
Mike & Katie Ilic, owners, Oswego, St. Charles, Downers Grove, IL
"Board & Brush has been such a huge blessing for our family! Looking back on our journey – I am so thankful that we made this decision. Even with all of the uncertainty of 2020, I wouldn't change a thing. We've adapted with new offerings such as: to go kits, virtual workshops, specialty and pre-made projects, backyard games, etc. I can't wait to see what the future holds!"
Betsy Lee, owner, Bluffton, OH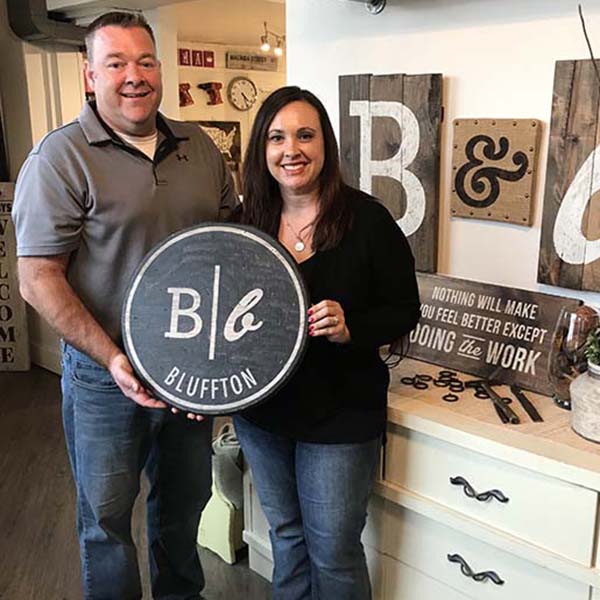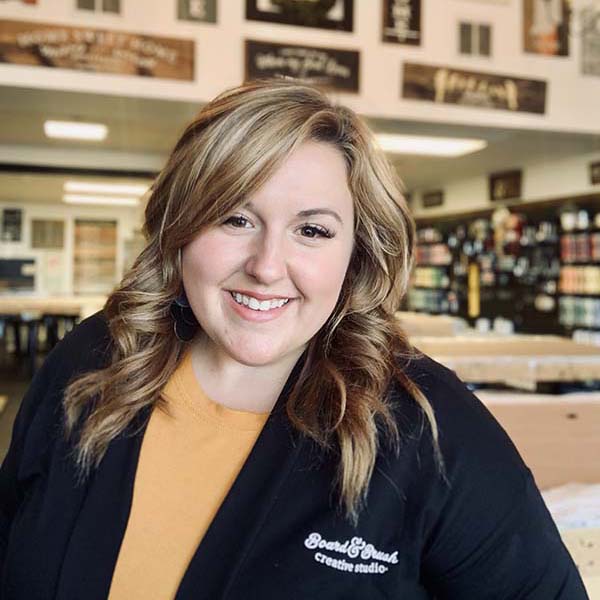 "It has been such a blessing to be a franchisee with Board and Brush. With a great foundation and corporate staff Board and Brush weathered something all business owners today never could have imagined. Throughout the pandemic we were never alone. We were able to adapt our business to what we needed at the time. We now are able to offer our customers @home kits, virtual events and I was able to bring my staff back with our pre-made Backyard games series. As franchisees we own our own business but we are never alone when trouble strikes."
Anna Jones, owner, Roanoke, North Ft. Wayne, IN
"I was looking for a career change after many years in the same field. Nothing felt right until I discovered Board & Brush. They have a great support system in place to help each owner be successful. I love the sense of accomplishment and pride that comes with owning my own studio!"
Chip & Beth Searcy, owners, St. Johns, FL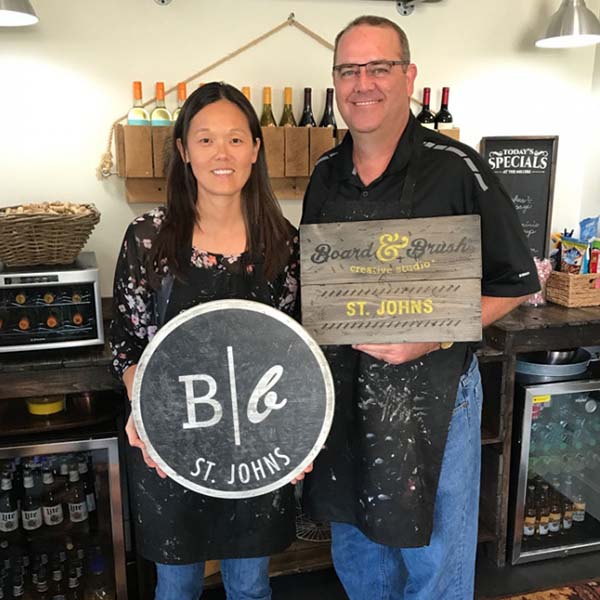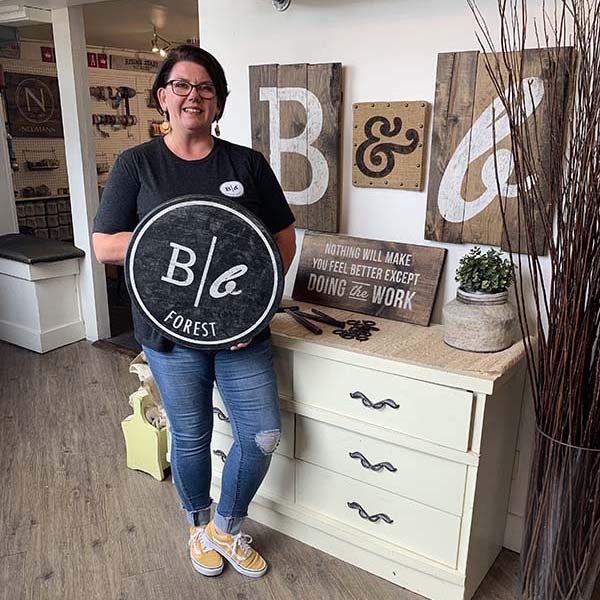 "I fell in love with the atmosphere, it felt perfect to me, I thought how I needed more of this in my life and my mind raced ahead to how to bring this to my hometown." "This is a chance to show my children what can be accomplished when you find a career you enjoy, and that's an invaluable lesson for them."
STEFANIE FEESE, OWNER, FOREST, VA
"We went to the corporate studio in Wisconsin, discovered they had everything figured out, every system in place to do it the right way instead of the hard way and we were sold!"
COURTNEY DICKERSON & HEATHER RISINGER, OWNERS, PANAMA CITY, FL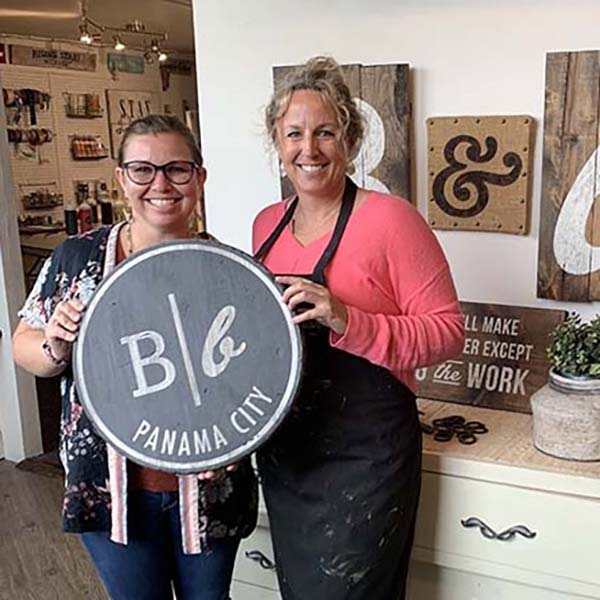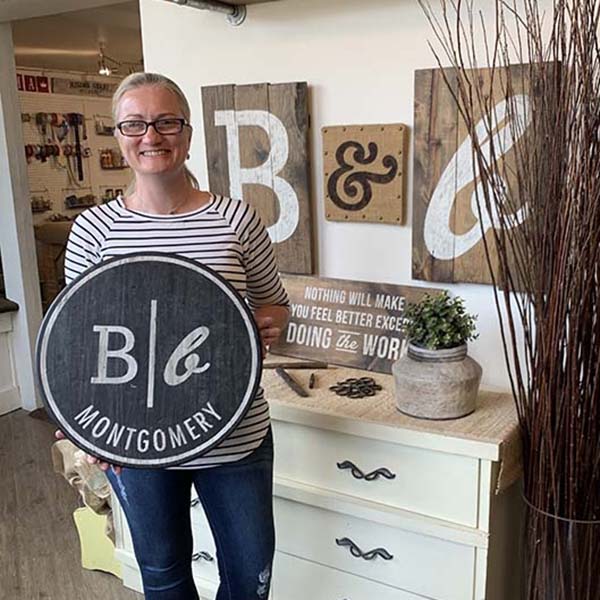 Jeffries' introduction to Board & Brush came through her brother, who is a franchise owner himself in Chattanooga, Tenn. "When a family member is happy owning a business that's a pretty good endorsement," "I really want to work for myself" "The beauty of this business is that it's an instructor-led environment which makes it easy to create something you'll be proud of, plus you get to unwind here and make positive connections with others."
BRANDIE JEFFRIES, OWNER, MONTGOMERY, AL
"We came here with the goal of entrepreneurship and probably looked at upwards of 50 businesses and business concepts before we decided on Board & Brush,"
RACHAEL & BRAD ROUMAYA, OWNERS, FORT COLLINS, CO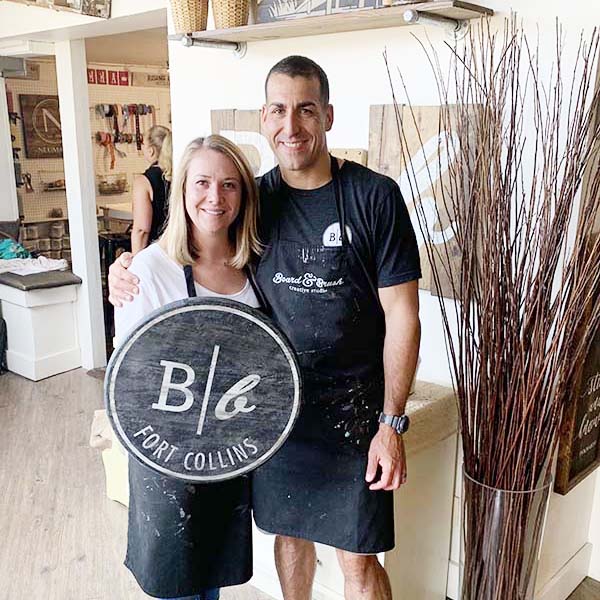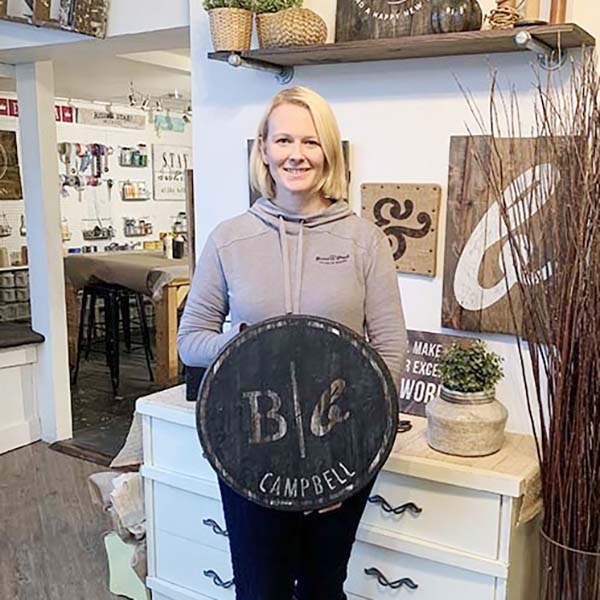 "My husband and I were looking for a business that was a fun outlet instead of a 'job' and we found it. I love empowering people to make their own sign, especially those who say they can't because they think they're not creative. I took my aunt who can't sew a button on, and she was so proud of herself."
NICOLE & TOM BENSING, OWNERS, CAMPBELL, CA
"I would say that the Board and Brush family is with us every step of the way. From Discovery Day, all the way up to your training, through opening, and continually."
RACHEL & NELSON WHITLOCK, OWNERS, GLEN MILLS, NEWTOWN SQUARE, PA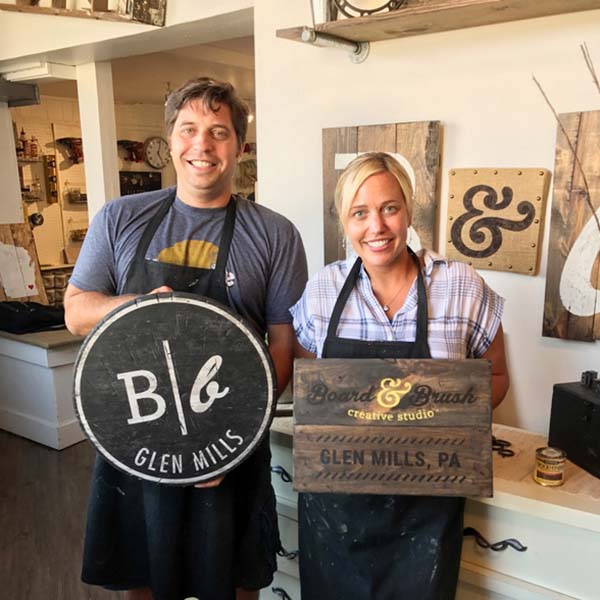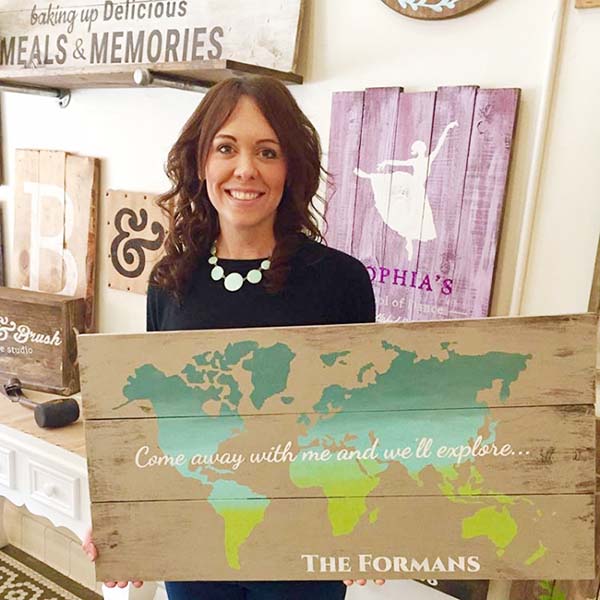 "I love the signature look of the Board & Brush designs, sharing my love of rustic and distressed home decor with others, and teaching and empowering customers how to create a unique piece for their home. I enjoy managing a wonderful team of Assistants & Instructors. Being able to do a lot of my work from home is also a benefit!"
KATIE FOREMAN, OWNER, GREEN BAY, WI
"Owning my studio has allowed me to have more freedom to be with my children in the morning and not feel as rushed when I had a 9am – 5pm job. I have a very new schedule now, but we all learned to adjust to my new schedule and while I am gone in the evenings at times, I can schedule myself to work for my family. I love teaching my young boys work ethic now and they absolutely love my studio. They love to help when they can, and they are seeing what it takes to own a business."
LINDSEY CAMARGO, OWNER, MEDINA, SYLVANIA, OH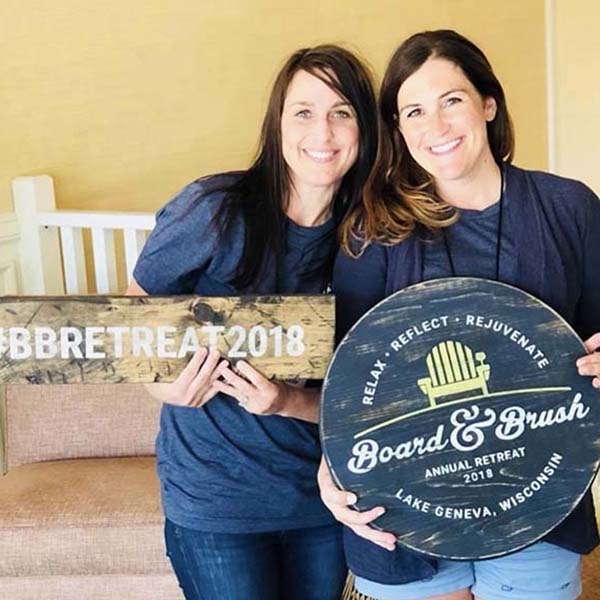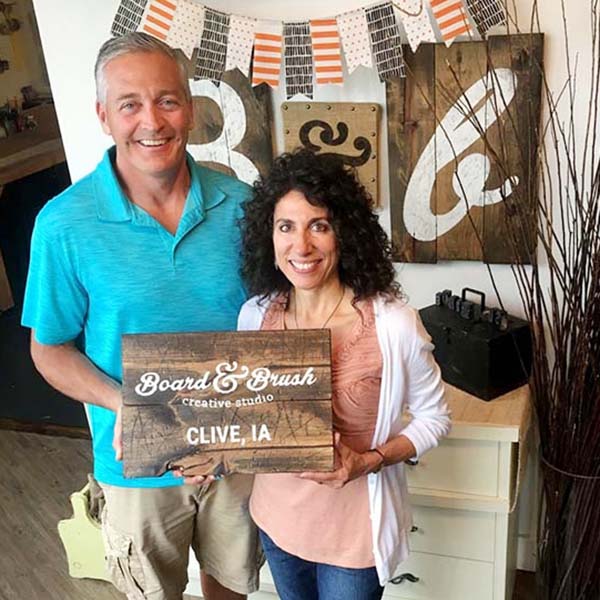 "Since we've opened our studio, we have had an opportunity to meet and have fun with so many great people! It's amazing the connections we've made and how people have heard about us! It's so exciting to see the finished products that people come up with – no 2 signs look alike! Additionally, we hear so many great comments about how well customers like the products! We often hear that they had a hard time choosing because they liked so many of them. And in only 2 months of opening, we have had multiple repeat customers coming in 2-3 times! The flexibility this business offers is wonderful too! And one of the greatest benefits is it doesn't seem like work!"
TROY & JULIE WEILAND, OWNERS, CLIVE, IA
"The most inspiring thing about owning a Board and Brush is how rewarding it can be on so many different levels. With your customers, your staff, and then obviously just your own satisfaction from being an owner of something that you've built, and you've fostered, and you continue to grow. It's extremely rewarding."
KRISTIN & BRENDEN CLARKE, OWNERS, WALNUT CREEK, LIVERMORE, CA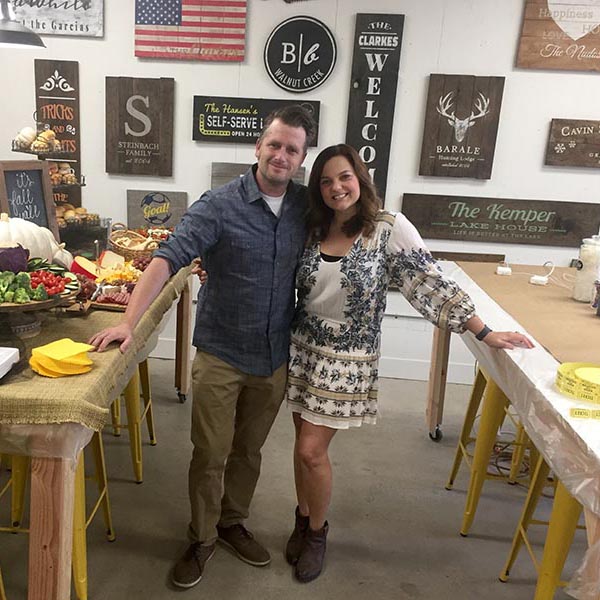 Mary June & Dennis Collins, OWNERS, Mesa, AZ
Ready to learn more?
To get one step closer to fulfilling your dreams, please fill out and submit this confidential questionnaire.
This will help determine if Board & Brush Creative Studio and you will make a good match!
The information contained on this website is not an offer to sell or the solicitation of an offer to buy a franchise. The franchise information contained herein is not directed to the residents of any particular jurisdiction. The offer of a franchise can only be made through the delivery of a franchise disclosure document. Certain states require that we register the franchise disclosure document in those states. We will not offer or sell franchises in those states until we have registered to do so (or obtained an applicable exemption from registration) and delivered the franchise disclosure document to the prospective franchisee in compliance with applicable law.