Our Vision
To provide you a unique opportunity to share your DIY passion while having the flexibility and freedom to grow your studio at the pace that works for your family.

Become a Board & Brush Franchisee!
( it's awesome )
We are Board & Brush Creative Studios, a family of successful franchise owners who host inspiring DIY workshops for people who love to create and connect with friends. Our fellow franchisees come from all walks of life, and they're all discovering the same great things for themselves and their families. They know the freedom and flexibility of owning a studio. They feel a sense of purpose from creating a space where people find creativity, friendship, and inspiration.

Our Franchising Relationship
We refer to our Studio owners as a 'franchise family', because that is how we feel about our owners, they are part of our family. We've developed communications and processes that ensure a successful working relationship, while providing the opportunity to partner in a fun family friendly environment.
Understanding franchising may seem very difficult. Our extensive franchise disclosure document (FDD) provides a great deal of information that the prospective franchisee will need and want. We are here to help you understand the key terms of our franchise offer and feel confident in any decision you may make.

"Being an owner of B & b has been a dream come true. The products that we offer along with the experience is truly a top notch match. I still wake up each morning in disbelief that we are part of this amazing organization! I love how happy our customers are at each and every class. They all love it! I feel like I have a family at Board & Brush!"
CRYSTAL & BRADDEN JOZSA – STUDIO OWNERS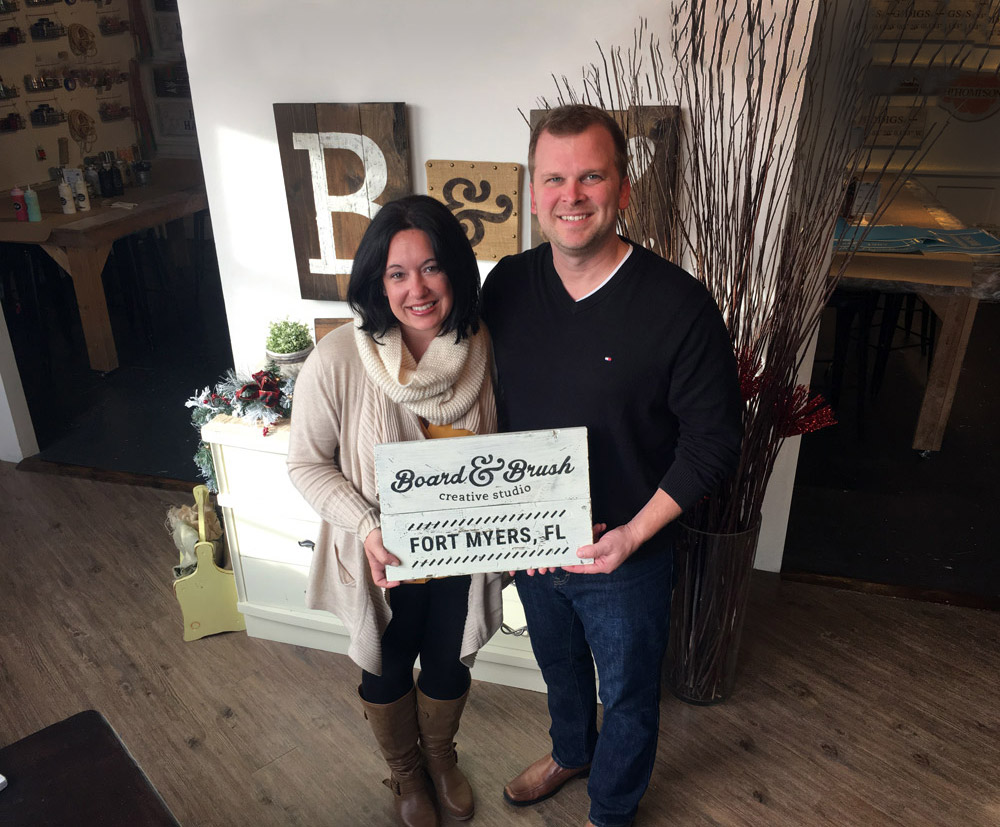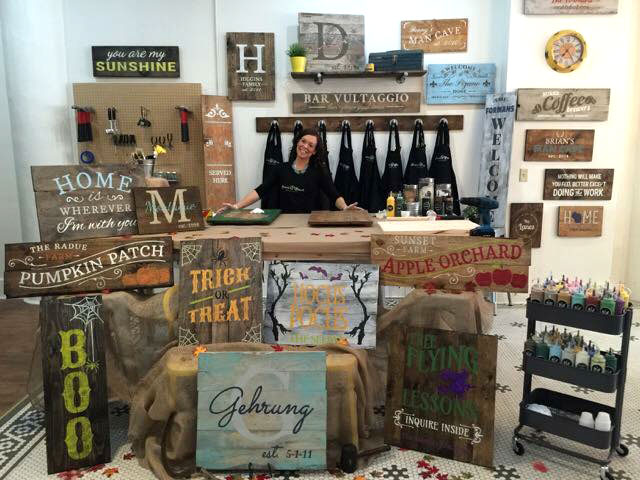 "I love the signature look of the Board & Brush designs, sharing my love of rustic and distressed home decor with others, and teaching and empowering customers how to create a unique piece for their home. I enjoy managing a wonderful team of Assistants & Instructors. Being able to do a lot of my work from home is also a benefit!"
KATIE FOREMAN – STUDIO OWNER

Discovering Board & Brush Creative Studio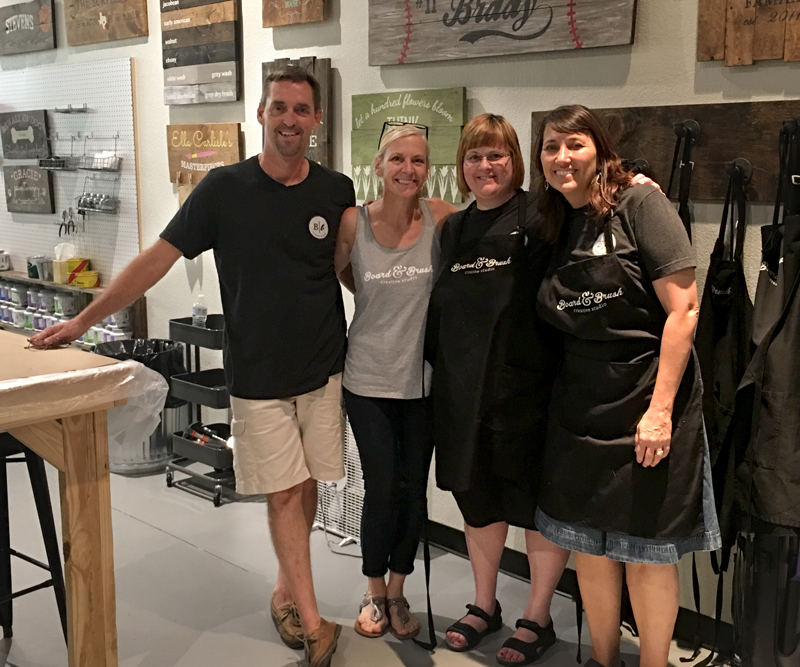 After we review your Questionnaire, a member from our team will reach out to you to schedule a call with our founder, Julie Selby, so you can learn more about Board and Brush Creative Studio opportunities and we can learn more about you! We will also provide you with the offer to visit our Flagship Studio and Franchise Support Center in Hartland, Wisconsin.
During your visit you will gain an understanding of our business model and meet our Franchise Support Team. You will also participate in a workshop in the 'original' Board and Brush Creative Studio!
We look forward to meeting you in person and giving you the opportunity to decide if our family of studios is a good fit for you and your family.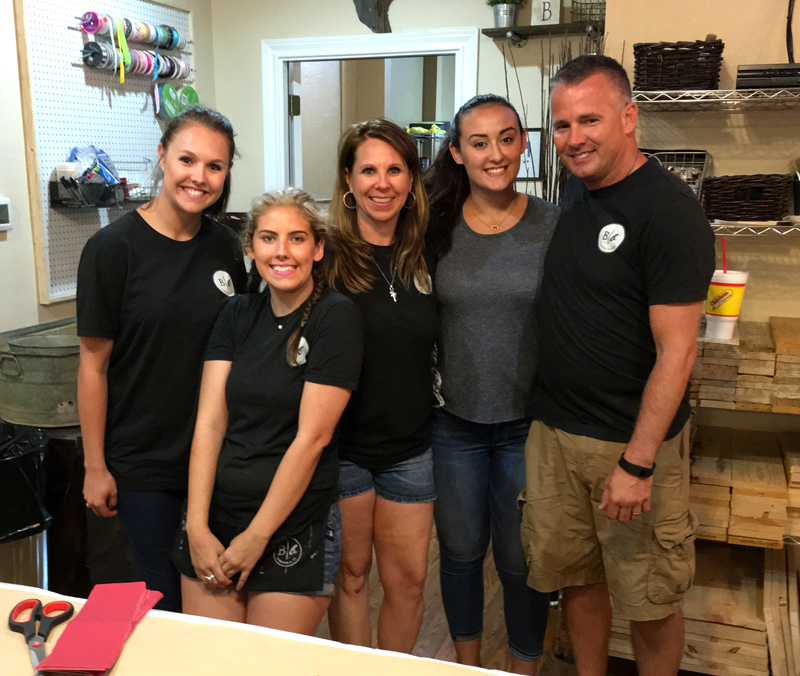 "Owning a Board & Brush has changed my life and my family's lives in so many ways. I can give career options to my children as well as offer my friends and family a fun way to connect with everyone. "
AMY & JAMES EVANS – STUDIO OWNERS

"…you have unconditional support. Everyone wants you to succeed! How cool is it that you can post something on facebook and the owner or directors reply back to you right away! It is such a positive environment and it feels like family.
Although I have never worked this hard in my life, it does not feel like work. I honestly am doing what I love."
KRISTYN ZUMMALLEN & DENISE CLARK – STUDIO OWNERS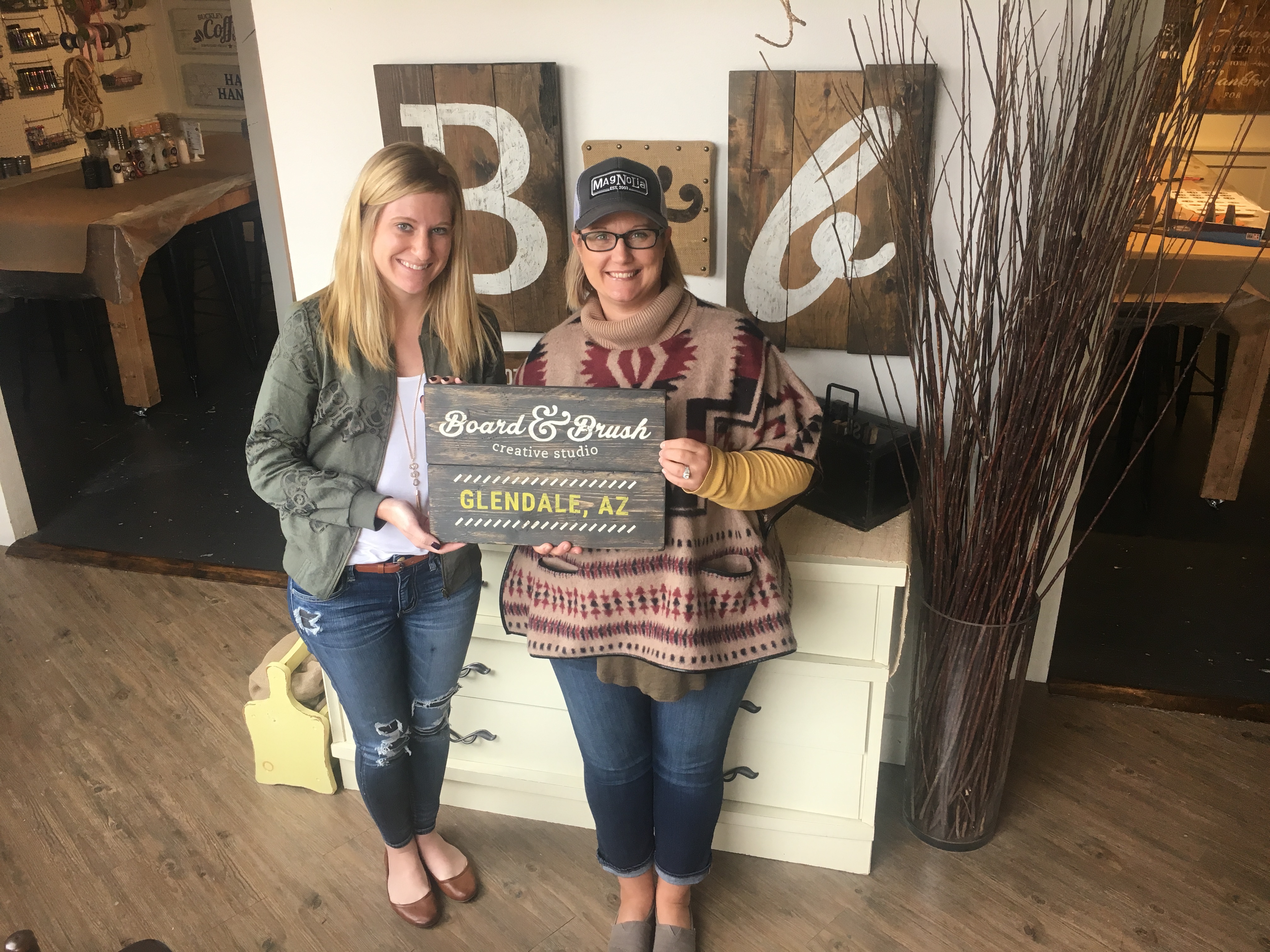 What Franchising with Board & Brush Creative Studio Offers You
Our DIY workshops are amazingly fun and our customers leave our workshops with a home decor piece that is worthy of their walls! This is what keeps our customers coming back. What helps our studios succeed in this model is our state of the art website, design library and ability to provide on going operational efficiencies. Buying a franchise allows you to buy into a system with a track record of success, established branding, training and support programs, marketing support and purchase power. All of these benefits help reduce risk when you open your dream business.
Board & Brush Creative Studio is also a proud member of the International Franchise Association (IFA). The IFA is the world's oldest and largest organization representing franchising worldwide.
Cost of Franchising a Board and Brush Creative Studio
Our initial start up costs vary depending on the studio location, size and amount of work the site requires. Our current estimated start up costs range from $62,289 to $89,406. This includes the initial $25,000 franchising fee. We pride ourselves in keeping our costs below the industry average and allowing families the opportunity to live their dream of opening their own business. We also offer discounts on our franchise fee to Military Veterans and their spouses.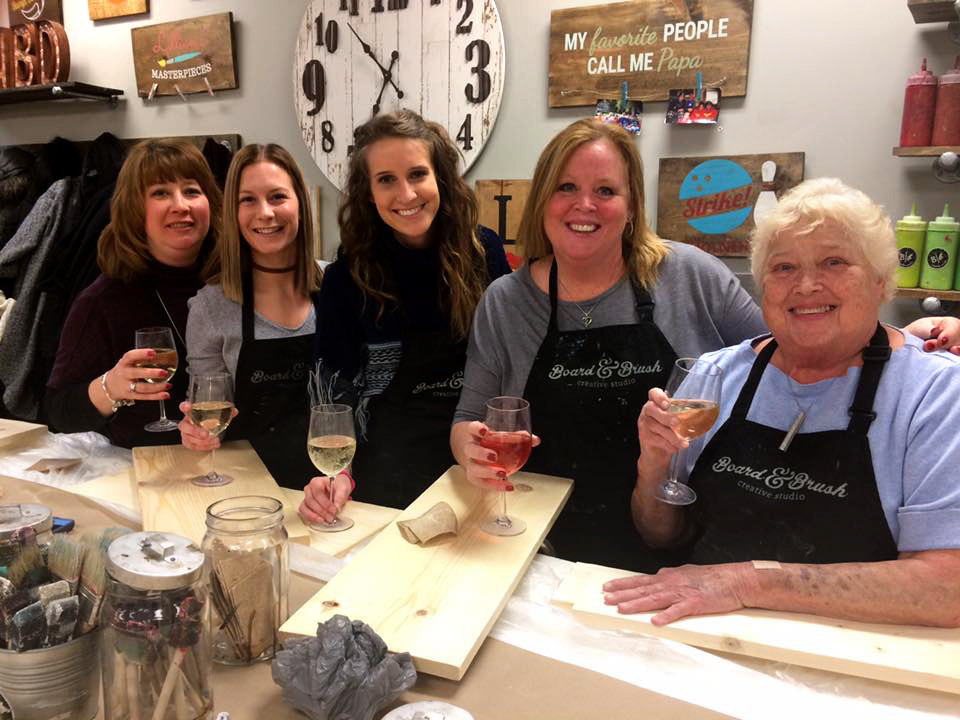 "We live and breathe Board & Brush! We have been able to make running this business work well with our family. It is a demanding job, but it has great rewards. I have been able to provide a supplemental income that has become our main source of income. My kids enjoy coming to the studio and love making signs…my 9 year old wants to work for me already!"
LINDSAY BAUER – STUDIO OWNER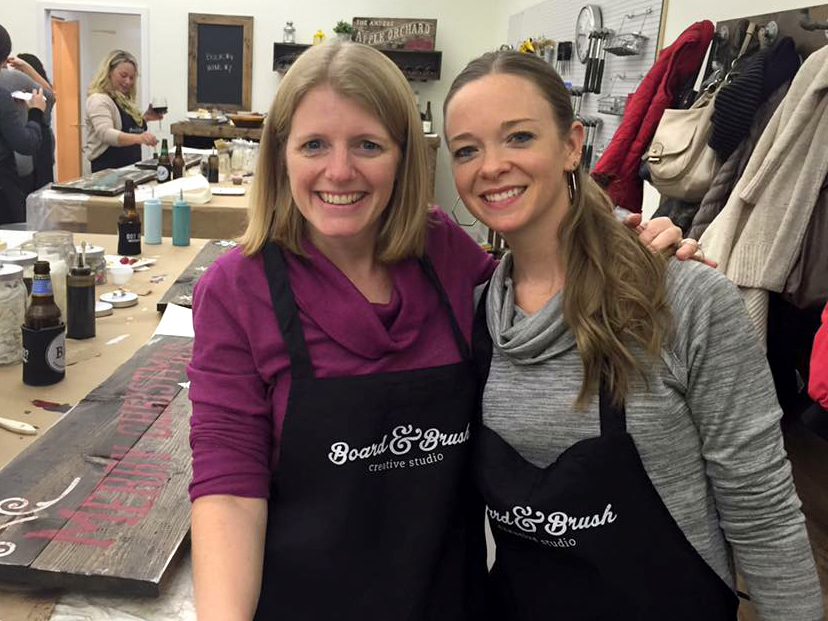 "Owning a studio has changed our family's life by giving us freedom.  We function our business around our family's hectic schedule and the flexibility is wonderful.  Financially B&b has supported us where we can build up a savings to help with our children's college fund or a safety net."
GIN KENNEDY – STUDIO OWNER

Our Board & Brush Family!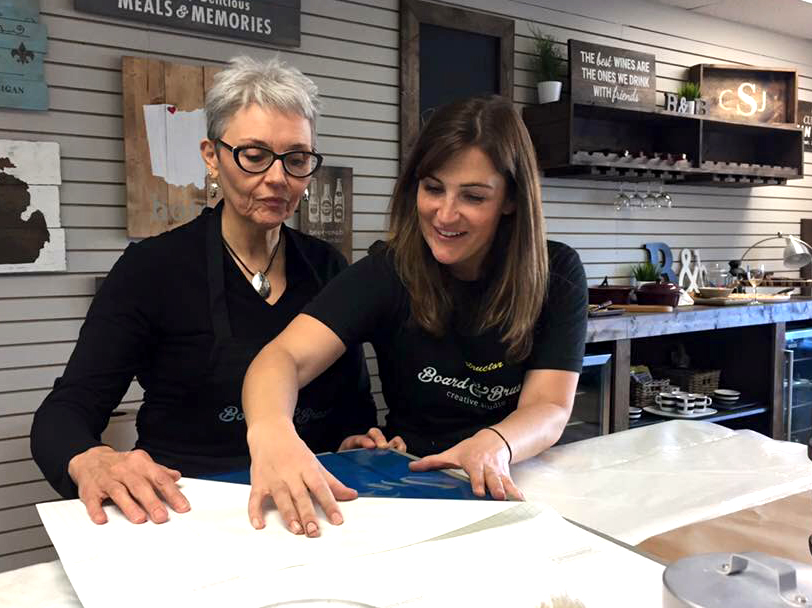 "Owning my studio has allowed me to have more freedom to be with my children in the morning and not feel as rushed when I had a 9am – 5pm job. I have a very new schedule now but we all learned to adjust to my new schedule and while I am gone in the evenings at times, I can schedule myself to work for my family. I love teaching my young boys work ethic now and they absolutely love my studio. They love to help when they can and they are seeing what it takes to own a business."
LINDSEY CAMARGO – STUDIO OWNER

"We were attracted to how grassroots the concept is and how it's a family-affair. The owners, their family and their corporate staff are all genuine individuals who have each others' backs and are more interested in doing the right thing, than in making a quick buck."
JENN & ANDREW FLEURY – STUDIO OWNERS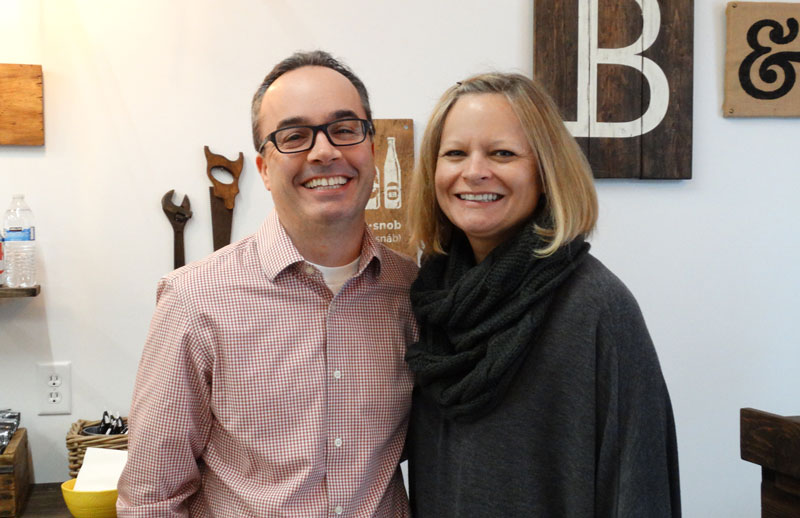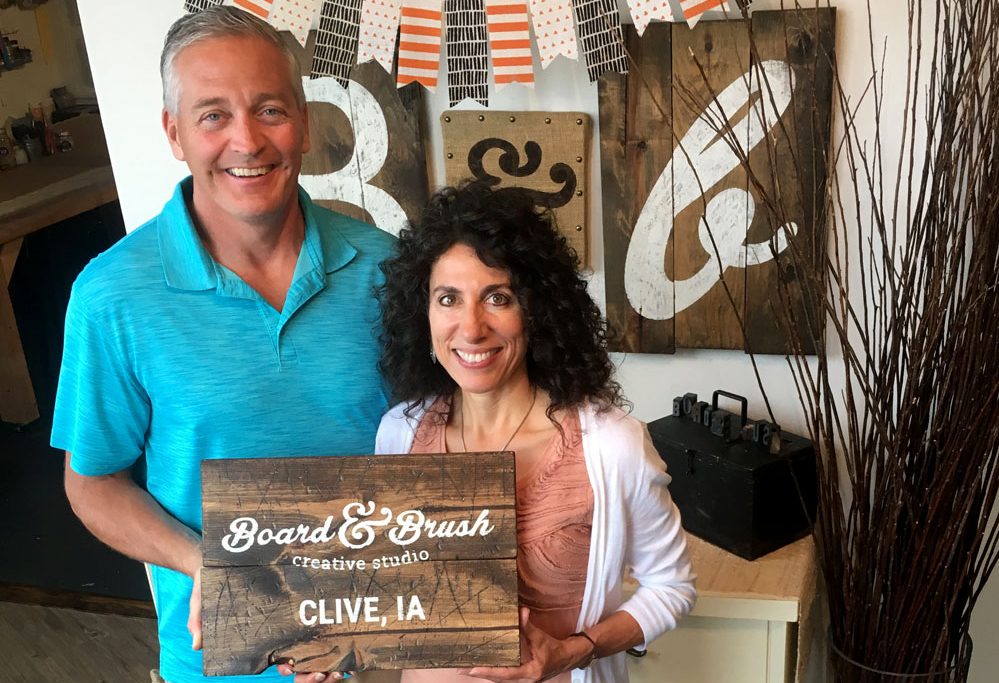 "Since we've opened our studio, we have had an opportunity to meet and have fun with so many great people! It's amazing the connections we've made and how people have heard about us! It's so exciting to see the finished products that people come up with – no 2 signs look alike! Additionally, we hear so many great comments about how well customers like the products! We often hear that they had a hard time choosing because they liked so many of them. And in only 2 months of opening, we have had multiple repeat customers coming in 2-3 times! The flexibility this business offers is wonderful too! And one of the greatest benefits is it doesn't seem like work!
TROY & JULIE WEILAND – STUDIO OWNERS

Contact Us!
In order to proceed to the next step in opening your own B&b, we ask that you please fill out and return the following confidential questionnaire. The details you provide will help us determine if we are a good match for each other. Thank you!
If you have additional questions, please email us at franchising@boardandbrush.com!

We are a proud member of VetFran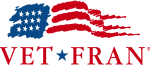 The information contained on this website is not an offer to sell or the solicitation of an offer to buy a franchise. The franchise information contained herein is not directed to the residents of any particular jurisdiction. The offer of a franchise can only be made through the delivery of a franchise disclosure document. Certain states require that we register the franchise disclosure document in those states. We will not offer or sell franchises in those states until we have registered to do so (or obtained an applicable exemption from registration) and delivered the franchise disclosure document to the prospective franchisee in compliance with applicable law.