Our Vision
To provide you a unique opportunity to share your DIY passion while having the flexibility and freedom to grow your studio at the pace that works for your family.
Our Franchise Family
We are Board & Brush Creative Studios, a family of successful franchise owners who host inspiring DIY workshops for people who love to create and connect with friends. Our fellow franchisees come from all walks of life, and they're all discovering the same great things for themselves and their families. They know the freedom and flexibility of owning a studio. They feel a sense of purpose from creating a space where people find creativity, friendship, and inspiration.
We refer to our Studio owners as a 'franchise family', because that is how we feel about our owners, they are part of our family. We've developed communications and processes that ensure a successful working relationship while providing the opportunity to partner in a fun family-friendly environment.
Understanding franchising may seem very difficult. Our extensive franchise disclosure document (FDD) provides a great deal of information that the prospective franchisee will need and want. We are here to help you understand the key terms of our franchise offer and feel confident in any decision you may make.
When You Succeed,
We All Succeed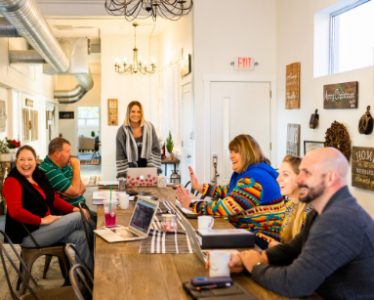 Our DIY workshops are amazingly fun and our customers leave our workshops with a home decor piece that is worthy of their walls! This is what keeps our customers coming back. What helps our studios succeed in this model is our state of the art website, design library and ability to provide ongoing operational efficiencies. Buying a franchise allows you to buy into a system with a track record of success, established branding, training and support programs, marketing support and purchase power. All of these benefits help reduce risk when you open your dream business.
WHAT SETS US APART
Well-Established National Branding
A State-of-the-Art Website and Registration System
A Continuously Expanding Design Library
Extensive Training and Support Programs
Vigorous Marketing Support
Unmatched Purchasing Power
Proprietary iPad Application
Customer Loyalty and Rewards Program
Collaborative Franchise Owners
These benefits – and others – combine to help reduce risk and make it easier to fulfill the dream of opening your very own franchise business.
Your Dream is Within Reach
Our initial start-up costs vary depending on the studio location, size and amount of work the site requires. Our current estimated start up costs range from $63,589 to $90,461. We pride ourselves in keeping our costs below the industry average and allowing families the opportunity to live their dream of opening their own business. We also offer discounts on our franchise fee to Military Veterans and their spouses.
DOLLARS AND SENSE
Franchise fee of $25,000
Buildout
Furniture and Equipment
Lease Deposits and Permits
Professional Fees and Insurance
Signage
Training
Insurance
Supplies & Inventory
Grand Opening
Operating capital for first 1-3 months open
There is an ongoing 6% royalty and 1% brand fund accessed on gross revenue due monthly
Your start-up costs will vary greatly depending on studio location.
DIFFERENT STREAMS OF REVENUE
In Person Instructor led Workshops
Virtual Workshops
DIY To Go Kits
Private Parties for Adults and Kids
Youth Camps
Gift Certificates
Premade Projects
Food & Drinks
Become a Part of
Our Franchise Family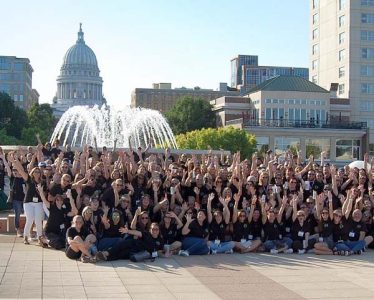 After we review your Questionnaire, a member from our team will reach out to you to schedule a call with our franchise expansion team, so you can learn more about Board and Brush Creative Studio opportunities and we can learn more about you! We will also provide you with the offer to visit our Flagship Studio and Franchise Support Center in Hartland, Wisconsin.
During your visit, you will gain an understanding of our business model and meet our Franchise Support Team. You will also participate in a workshop in the 'original' Board and Brush Creative Studio!
We look forward to meeting you in person and giving you the opportunity to decide if our family of studios is a good fit for you and your family.
Our Franchise Process
Complete our online franchise form here
A member of our franchise expansion team will be in touch if your area is open for expansion
If matched, a member of our franchise expansion team will set up a introduction call with you
Review our Franchise Disclosure Document (FDD)
Execute Prospective Franchisee Agreement
Visit flagship studio in Hartland, WI, meet our franchise support team and participate in Discovery Day
If we mutually agree to proceed after Discovery Day, award franchise & draft Franchise Agreement with the legal team
Affiliations & Accolades



– 2019 –
March – #39 out of 150 of the Top Fastest Growing Franchises in Entrepreneur Magazine
April – #23 out of 100 of the Top New Franchises in Entrepreneur Magazine
October – #466 in Franchise Times Top 200+ of the largest US franchise systems
– 2020 –
January – #381 of 500 in the Franchise 500 in Entrepreneur Magazine
March – #29 out of 150 of the Top Fastest Growing Franchises in Entrepreneur Magazine
April – #13 out of 100 of the Top New Franchises in Entrepreneur Magazine
October – #431 in Franchise Times Top 200+ of the largest US franchise systems
– 2021 –
January – #328 of 500 of the Franchise 500 in Entrepreneur Magazine
March – #53 out of 100 of the Top Franchises for Less Than $100K in the Spring issue of Entrepreneur's StartUps magazine
April – #21 out of 100 of the Top New Franchises in Entrepreneur Magazine
May – #178 on the Inc. 5000 Regionals list of fastest-growing private companies in the Midwest
Ready to learn more?
To get one step closer to fulfilling your dreams, please fill out and submit this confidential questionnaire.
This will help determine if Board & Brush Creative Studio and you will make a good match!
The information contained on this website is not an offer to sell or the solicitation of an offer to buy a franchise. The franchise information contained herein is not directed to the residents of any particular jurisdiction. The offer of a franchise can only be made through the delivery of a franchise disclosure document. Certain states require that we register the franchise disclosure document in those states. We will not offer or sell franchises in those states until we have registered to do so (or obtained an applicable exemption from registration) and delivered the franchise disclosure document to the prospective franchisee in compliance with applicable law.